10,000 words in a Day? Impossible!
By guest blogger Milli Thornton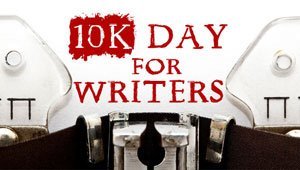 10,000 words in a day? Impossible!
That's what I said in 2006 when my friend Jenny Turner asked me to do a "10K Day."
To be accurate, I didn't say it was impossible for Jenny. I already knew she could do it. I said it was impossible for me.
I had my reasons. I'm a slow writer. I'm a believer in creativity. Creativity is not about hammering out words like some maniac on an acid trip, right?
Funny how hard we can cherish our beliefs–that sometimes turn out to be nothing but assumptions.
There are ten rules for the 10K Day. I know, I know. It already sounds like a forced march of writing, and having rules just makes it sound more militant. But it's an unbelievably fun way to spend a day. And the rules really help. When I followed them on my very first 10K Day, I ended up (to my great surprise) writing 10,277 words. I had started with very low expectations that day, but there's something about the rhythm and momentum of the 10K Day that pulls it out of you.
Breaking the barrier left me feeling liberated in a way I could not have imagined before I tried it.
Here are the rules:
1. No editing or rewriting.
2. No looking back over what you've written. Keep forging ahead.
3. No rummaging–either in notebooks or in your computer files–for writing you did some other time.
4. No research. Make it up.
5. Don't fuss about the rules of writing. Just write.
6. Don't fuss with structure. You can format, add chapter headings (or whatever) some other time.
7. No struggling. ("Allow yourself to be crappy." – J.R. Turner)
8. Take a 15-minute break every two hours. Use this break to refresh your body, brain and spirit.
9. Report to your writing companions during your break. Use the check-in page that shows the correct date for the event you're attending.
10. No agonizing over your word count. Yes, the goal is 10,000 words, but not at the cost of your peace of mind. This is not a competition–not even with yourself! Have fun instead.
Adapted with permission from 10K in a Day by J.R. Turner
The problem with assumptions (mine, anyway) is that they usually focus on the wrong thing. In a vague way, if we think it through at all (I sure didn't), when we hear "10K Day" we automatically react by assuming the writing will be the problem. What will I write all day long? Or what if my writing sucks? That type of thing. But a simple plan can take care of the first one–and Rule #7 should take care of the second.
No, what I've noticed (in more than four years of running this monthly event) is that the writing is not the problem. Our waffly boundaries are.
Many of us believe, somewhere deep inside, that everybody else's needs come before our writing. (If you don't think so, watch how you react next time an interruption comes along while you're writing.) There are also myriad distractions in this cyber-world to tempt us away from our writing dreams. The 10K Day asks us to set aside one day a month for our writing. And if we actually DO set aside the whole day–which means rescheduling the needs of others and shutting out distractions–it really is possible to write that many words.
The other trick is to take regular breaks and drink enough water. If your brain gets burned out, you'll have to quit early. That can easily be avoided by taking regular breaks. We recommend every two hours.
The most inspirational thing about the 10K Day is the writer-to-writer support. There are no comparisons made, and everybody's word count is cause for celebration. There's no pressure to reach 10,000. We cheer for anyone and everyone who shows up and gets some writing done!
So. Just one day a month. That's not much for your writing to ask of you. But the rewards can be great.
P.S. Remember Jenny, the friend who introduced me to the 10K Day? She has eight novels published as J.R. Turner. Jenny has used the 10K Day many times over the years to help her write her books.
Want to join us for a 10K Day? We offer a Wednesday and a Saturday every month. Check out November's event dates at 10K Day for Writers.For those who enjoy some extra learning, guidance and support, there's also an online course called Ace Your 10K Day!
——-

Milli Thornton (aka Milliver) is the author of Fear of Writing. She is owner of the Fear of Writing Online Course and Unleash Your Writing!, where her mission is to put the fun back into writing. Milli blogs at Milliver's Travels and Screenwriting in the Boonies and coaches her amazing clients at Writer's Muse Coaching Service.