The Writer's Notebook(s)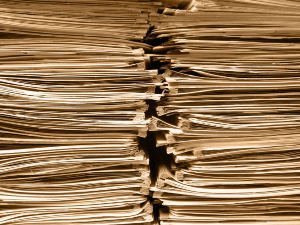 I am a total nerd for office supplies, and my most favorite kind are notebooks–spirals, perfect-bound journals, and binders, big, medium and little.  You name it, if you can write on it and its bound together in some form, I love it.
Part of this love, I'm certain, is because notebooks are tangible.  They exist.  They are real.  You can point to them as an object in this world–which is far different from the place I usually live, which is in my head, in worlds that don't exist until I put them on the page.
(Brief aside: I'm in LA staying with my friend Suzanne who bakes gluten-free goodies for a living. Helping her do even the most tedious of tasks, like washing dishes or boxing crackers, is actually fun for me because it is working with the tangible.)
I've always got a gazillion notebooks of various kinds going, and the thought occurred to me to write about them.   I've always loved the idea of the main character in Doris Lessing's The Golden Notebook, who keeps many notebooks as a symbol of her fractured mind. By the end of the novel, she's healed herself and keeps only one notebook–the golden notebook. Or so I hear.  I've never actually made it all the way through the damn lovely book.   I will never, ever be able to consolidate all my notebooks (I have three of them here with me on this trip) into one.  To wit:
Types of Writer's Notebooks I Have Been Known to Keep.
1.  The journal.  Duh.  That place where you put everything and anything, where you explore private thoughts and ideas related to your writing. (Unless, like me, you reach a point where you're writing so much about your writing project that you create a dedicated notebook for it.  See below.)I have 5, maybe even more like 10, huge tubs of journals that I've filled over the years.  I'm actually planning to dispose of them all soon–but that's a topic for another post.
2. The novel notes notebook.  (Or memoir notebook, or whatever you are working on.)  This is the place where I jot notes about ideas that occur to me, where I line out scenes, write snippets of dialogue, etc.  I cannot live without a notebook dedicated to my novel.  I'm five chapters into a new novel, and I've already almost filled up one steno pad notebook full of notes.  I find myself flipping through it often to remind myself of ideas about themes, characters, settings, and scenes.
3. The novel free writing notebook.  (I know, this is getting ridiculous.  Please bear in mind I'm very right-brained, which should already be obvious.)  This is a bigger spiral notebook in which I have more room to do free writes related to the novel.  I find if I keep the free writes and the notes all together in the same notebook, they tend to get lost.
4.  The daily log.  When I'm working on a big project, I like to keep a daily log.  This is a simple word count tally, along with a note about which chapter I'm working on.  It's great for when you think you haven't been accomplishing much, because you can look back over it and see what you have gotten done.  At the moment, since I'm getting a lot of notebooks going (ya think?) I keep this in the back of #2.
5.  A three-ring binder.  This is handy for printed out chapters, if you like to do that, or I put the critiqued manuscripts from my writing group in there.  It can also be used for research, images of the characters (if you've not done a vision board) whatever you find useful.  It's a place to corral things that have gone beyond the note stage.
6.  The carry-around notebook.  Holy crap, I nearly forgot this one. I always carry around a mini-spiral, or something that's easy to stash in my purse.  (In a pinch, I make notes on my phone.)  This is handy for ideas, brilliant thoughts, recipes, overheard dialogue, notes in church or meetings or lectures.  
Okay, that's it, I swear.  What kind of writer's notebooks do you keep?
Some other posts on this topic:
8 Essential Tools for Book Writing
The Writer's Notebook: Loving Moleskines
Image by ppdigital.