The Creative Trance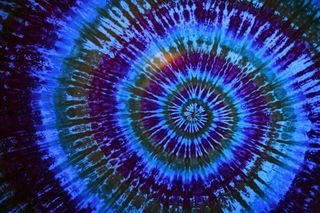 I'm working on a project that puts me into a trance.
My fingers fly across the keys and I'm totally and completely absorbed in it.  Time passes and I have no sense of it–if you asked me what the hour was, I wouldn't have a clue.  Dim thoughts that I should get up from my chair arise (I'm trying to stand up and move every 30 minutes) and they leave my brain again just as fast.  Because my fingers are moving across the keyboard, as if of their own volition.  It doesn't even occur to me to check email or see what's up on the internet. My fingers just keep moving.
When I finally come out of it, I'm wrung out–but in a cheerful, energetic way, if that makes sense.  I'm ready to take a break and I also cannot wait until I get to go back into the trance again.
This is what writing is all about.  This is how I like my creativity.
And, I recall, this is how writing used to be for me always.  Before I started worrying about how it sounded.  Or doing it right.  Or if the client would like it. 
So why is it suddenly happening for me again?
I think because I'm playing around with a different genre.  It's something new, I'm not worrying so much about the rules, and I'm allowing myself to have fun.   At the same time, I've got enough of a sense of mastery that I'm not second guessing myself all the time.
But also, I believe there's a sense of allowing myself to let it happen at play here.  I have to admit, in the past I've felt close to being in a trance state and talked myself out of it.  Got up from the computer, clicked over to check email, gazed out the window instead.
And I think I know why.  Because once  you're in the trance state it is the most wonderful place imaginable.   But it's also a bit scary.  You're out of control of your conscious mind to a certain extent.  You're in the grip of something bigger, something beyond you. 
What if you never come out?  What if you get so compelled by this trance state that you give yourself over to it totally–don't bother to shower, forget to pick up the kids, ditch cooking and cleaning?   What if you give yourself to it so fully that you become the madwoman who wanders around town talking to herself?  
Okay, so realistically, we're all pretty sure that's not going to happen.  But, still, it could, our inner critic insists.  And so we reign ourselves in, listen to that voice, attempt a more measured approach to writing.
But here's the thing: the writing I do while I'm in a creative trance is my best work.  It flows, it has a sense of authority, and at the same time, ease.  I wrote it effortlessly and it reads effortlessly.
So, I, for one, am vowing to allow myself more time in the creative trance in 2014.  
How about you?  Have you experienced the creative trance?  Do you like it or loathe it?  
Photo by Scott Sandars.