7 Things About Writing I've Learned in 7 Years of Blogging (With Giveaway!)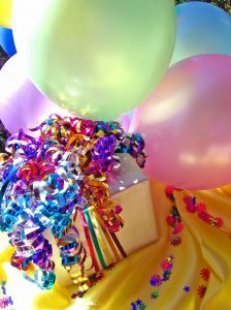 So, this week (yesterday, to be exact) is the seven year anniversary of my blog. Yep, I've been at this game for 7 years! I'm amazed, too, in some ways, and in other ways, not. Because from the minute I started blogging all those years ago I felt comfortable in this medium.  Sure, there have been times when I've lapsed in my posting (though surprisingly not all that often) and times when I was certain I'd never think of another thing to say about writing or the writing life.  But clearly I've recovered from those periods, because, well, here I am.
In my family we celebrate everything, so I think we need a Wordstrumpet birthday celebration, don't you? To that end, I'm giving away a few prizes which you'll have to read to the end to find out about. And in the meantime, I'll share with you what I've learned about writing in the past 7 years–because in many ways I feel I've come into my own as a writer as I've written this blog.  And I'm quite sure the two are not coincidental.
By the way, before we get started, you can read my first blog post here.
Okay, let's get on with it.  Here we go:
7 Things I've Learned About Writing
 1.  Let it Rip.  As mentioned above, blogging has turned out to be a natural medium for me.  Once I get an idea for a post, I rarely am blocked over it.  Most often, I just start writing and let it flow.  And flow it does.  This has spilled over into my other writing, too.  I find it far easier these days to throw words at the page, glumping them out so I can come back and rewrite them later.
2.  Not Everything is Perfect.  I've written over a thousand posts these past seven years and some of them are not that great.  A lot of them are really good, though–or at least I think they are!  When you're writing a lot of words, you are not always going to hit it out of the park and you'll drive yourself crazy if you try.  I'm not advocating you write crap, far from it.  Just loosen up on your standards a bit in order to get the words on the page.  
3.  It's All About Connection.  You guys–my loyal readers–are what keep me going and keep me writing posts.  I love the comments you leave, which always had immeasurably to the topic.  I love connecting with you!  And when you think about it, that's the essence of writing, isn't it?  Writing is a loop.  We put words on the page expecting somebody to read them, which is why we're all so obsessed with publishing.  The popular image of writers is of us in the ivory tower, all alone, writing, but I believe we desperately need connection.
4.  Social Media is Not a Waste of Time.  (And Twitter is about far more than what people ate for lunch.) I've met many people whose friendship I treasure on Twitter and through blogging.  We read and comment on each other's posts, support each other's book launches, and cheer each other on through all kinds of life events.  I've made business connections and hired people through Twitter. And I've even sold some books.  So don't shy away from using social media to build your author platform.  You can read a post I wrote about it here.
5. You've Got to Put Yourself Out There.  This is hard.  At least, I think it is.  You've got to get your work to a certain point and then let it go and let it seek its own place in the world.  Blogging has taught me how to put myself out in the world over and over and over again and bear the response, good or bad.  True story: when I first started my blog I told people about it but then told them not to look at it, because I was too nervous about what they'd think! Truly, I believe that fearing rejection (by our tribe, not agents and publishers)is such a primal response that we often refrain from putting our work in the world.
6.  Authenticity is Key.  This is, of course, closely related to #5.  You've got to put yourself out there as your own authentic self.  Because, you know, everybody else is taken.  
7.  Everything is Related to Writing.  When I started this blog, I had vague ideas of covering writing.  And then, as it developed, I realized I talked a lot about the writing life–how we writers move through our days, how we get inspired or blocked, what happens when we travel or new babies (in my case, grandchildren) come into our lives and suddenly everything changes.  And so I started writing about all of that.  And somewhere along the line, I realized, if you are a writer, the writing life encompasses everything–because everything is related to writing.  Period.
Okay, that's that.  And now onto the part you read all this way for: the presents!  Here they are:
–A signed print copy of my novel, Emma Jean's Bad Behavior.  (Makes a lovely gift if you already have a copy).
–A digital download of my novel, Emma Jean's Bad Behavior.
–A critique of your work–up to 25 pages.
Here's what you must do to enter: leave a comment telling me what you've learned in your writing lately (or over the last 7 years).  I will draw names randomly on Friday, April 4th, and announce the winners that day.
And truly, thank you all for reading and leaving comments and emailing me and supporting me in a million ways.  I treasure each one of you.
Photo by foobean01.