My Foray Into Indie Publishing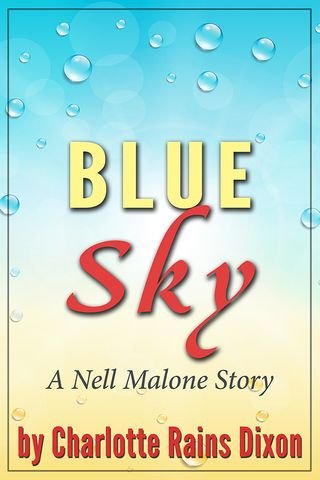 I've been writing so much about Amazon and indie publishing lately that I figured I better try it out myself.
And so I have.  As of last Wednesday, my first indie project, a short story, is for sale on Amazon for 99 cents.
Blue Sky: A Nell Malone Story
Here's the blurb (which I will no doubt rewrite a million times): 
Nell Malone's life is changing, big time. Still grieving over the death of her husband two years earlier, she grapples with the empty nest syndrome as her daughter leaves for college. But a visit to Santa Fe yields new insights into herself–and the tantalizing prospect of a relationship with an intriguing artist. A short story about loss and love.
And here's the inside scoop:  Nell Malone is a character who has been with me practically since I started writing.  She's a newspaper reporter and columnist with an artistic daughter and a husband who died two years earlier.  He was a cop, shot while on the job, and his killer has never been caught. I've got a novel about her all laid out and ready to write when I finish the book I'm working on now. (I'm thinking it will be a great project for Nanowrimo this November. )
But this particular story has been on my computer since my MFA days (and I graduated in 2003). Since Nell seems always to lurk on the edges of my brain, I pulled this story out, drastically gutted it, updated it, and edited it.  Then my writing group read it and commented and made more edits.  And I went back through it again until I was happy with every word.  And then the real fun began.
The Process
Let me just say, there are a few obstacles to the process of publishing a book.  
First of all, you've got to find a cover.  Now, let me be clear: this is a short story, as in short, not a lot of pages, not a novel.  I'm very proud of this story and I love that Amazon gives me a venue to publish it. All that being said, I didn't feel I needed to invest heavily in a cover, because, well, its a short story. And I knew a custom cover would be expensive, or at least more than my budget.
So I did what one always does in such circumstances: I asked the Google.
And I found Melody Simmons.  She does good work for reasonable prices.  I purchased a pre-made cover on her site which happened to suit my story.  It also happened to be on sale, which was a lovely bonus.  Melody has a good selection of pre-made covers on her site, and she also will do custom work. I recommend her.
And then after you get the cover, you need to figure out formatting.  Gee-zus.  It's actually an easy process to submit the file to Amazon.  They check it for spelling errors and send it back to you and then you preview it and realize that everything is wrong: tabs are wonky and things look awful.  So you go back over it again, trying to figure out what you did wrong.  And submit it again.  And it looks worse.  Finally, I got a writing friend with experience to help me with this and that solved the problem. There are also formatters that will do this for you. So that I don't have to rely on friends for help all the time, I'll probably buy this one.)
After you get all the wonkiness out, you submit it, et voila!  Your book is up on Amazon.  You can create your own Amazon author page, which I highly recommend, and feed your blog and Twitter onto it.  You can also create author pages for their UK, German, and French sites. (A tip: keep your English composing page open and you'll be able to figure out what they are saying.)
KDP Select
I opted to participate in the KDP Select program, which means I'm selliing it exclusively on Amazon for 90 days (and probably forever, most likely).  In return I get marketing tools such as the Kindle Countdown, which I haven't quite figured out yet, and the chance to offer my book for free. I'm still studying the best way to handle this promotion–when to offer it for free and so on.  
The Part Where She Asks for Reviews
Anyway, the story is available for purchase, and at the price of 99 cents, who can resist?  If you do buy it, I would SO appreciate a review!  Reviews rule the world, as far as the kings of Amazon are concerned, and I've not been good about asking for them.  (If you've read Emma Jean and feel like leaving a review, that would make me happy, too.)  So if you do decide to buy the story (and bless you if you do), writing a review would be awesome, too.  It's a really easy process!
Previous Posts
Here are some of the other posts I've featured about Amazon:
Amazon for Authors, Part Two: Tools and Thoughts
Amazon for Authors, Part One: Opportunities
PS
I've got a wee little book on writing about to come out, too.  I keep getting hung up on that one, for reasons to complex to list at the moment, but I'll keep you posted on it, as well.
And now, do tell: are you interested in leaping into the indie publishing process?