Guest Post, Book Launch: How Getting Coached Saved My Sanity
I am thrilled to introduce you to my friend Lisa, a fellow Portlander.  Her fabulous debut mystery, Kilmoon, A County Clare Mystery, just released last week.  She's got an interesting take on how to get organized for a book launch.  Take it away, Lisa!
Book Launches: How Getting Coached Saved My Sanity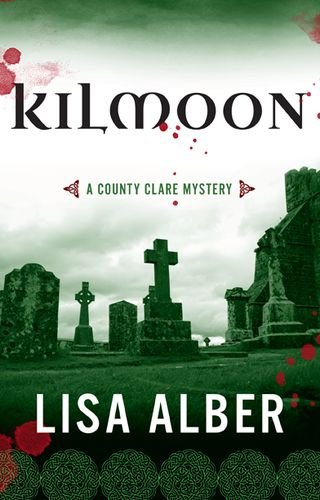 by Lisa Alber
My debut novel, Kilmoon, A County Clare Mystery, came out on March 18th, and if anyone six months previously had told me how nuts the ten weeks before launch would be, I would have shrugged. No biggie.
Uh-huh, right. Come to find out that I have two things going against me when it comes to being a coolly together person:
* I suck at long-term planning and nit-picky organizational tasks.
* I'm a tad neurotic so I get overwhelmed and stressed out easily.
I managed to sail along in the land of delusion until January 1st hit, and then I panicked. I had less than three months until Kilmoon launched. How was I to begin the process of organizing myself, much less actually accomplishing tasks? I didn't know where to start.
The extent to which I suck at organizational tasks and time management is outstanding. I really am a seat-of-the-pants, wing-it kind of person. But, and this is a big but, if you want to launch your novel with any kind of buzz at all, whether you're self-publishing or going traditional, you have to have your shite together.
Lisa Romeo, my coach, specializes in writers. Hallelujah! The first thing she had me do was break down the zillions of to-dos zinging through my brain into five categories. These are your primary goals for the book launch. Priorities are good! For example, you might have:
1. Blog tour / book tour
2. Launch party
3. Newsletter/mailing list
4. Promotional giveaways (Goodreads, LibraryThing, Facebook parties, Twitter chats, etcetera)
5. Appearances and conferences
For each category, brainstorm every task you can think of. Go for it. No need to be organized yet. Remember that tasks often have sub-tasks, which have sub-tasks. List them all.
Here are some other tips and tricks that kept me sane:
1. Print out a separate calendar just for book launch tasks and then plan backwards. If you know when you want your launch party, then what are the goals leading up to that? Note the sub-task deadlines. Seeing the tasks visually was so helpful for me. This especially helped me keep track of deadlines for guest posts (blog tour category).
2. White board! I set mine up in the living room where I could see it every time I passed by. For each category, I'd list the tasks for that week. I'd get these tasks from my calendar and also my brainstormed task lists.
3. Each Sunday, look over your lists, revise your priorities as needed, and write out your next tasks for the coming week. You might find that creating a mailing list and a newsletter can wait until after the launch. Perhaps developing a new website has become more important. This is OK!
4. Cheat a little. There are always more tasks that come up along the way. I added another column on my white board for "miscellaneous." This column might include random tasks such as updating your Facebook banner to include your cover art or ordering bookmarks.
5. Be realistic about how much time you have to devote to book launch tasks. You can't do everything. This lesson was one of the best things I got out of coaching: let stuff go. I was batty enough as it was without trying to be Ms. Perfect Book Launch Mama.
6. Give yourself a mental high-five when you cross a task off your list. You're doing it!
I'm here to tell you that if I can make it through launch, then you can too. I've found that most people are either less charmingly neurotic than I am, or more organized—that is, most have an automatic heads up on me. But I survived! And, my launch went well too.
You'll learn some things about yourself along the way. I learned that I suck at follow-through and quick decision-making, but, hey, that's OK. I'll factor that in for the next launch. Next time, I'll hire a coach four months ahead of time. That should do the trick, don't you think?
About Kilmoon.
Merrit Chase travels to Ireland to meet her father, a celebrated matchmaker, in hopes that she can mend her troubled past. Instead, her arrival triggers a rising tide of violence, and Merrit finds herself both suspect and victim, accomplice and pawn, in a manipulative game that began thirty years previously. When she discovers that the matchmaker's treacherous past is at the heart of the chaos, she must decide how far she will go to save him from himself—and to get what she wants, a family.
"Brooding, gothic overtones haunt Lisa Alber's polished, atmospheric debut. Romance, mysticism, and the verdant Irish countryside all contribute to making KILMOON a marvelous, suspenseful read." —Julia Spencer-Fleming, New York Times & USA Today bestselling author of Through the Evil Days
"This first in Alber's new County Clare Mystery series is utterly poetic … The author's prose and lush descriptions of the Irish countryside nicely complement this dark, broody and very intricate mystery." —RT Book Reviews (four stars)

Lisa Alber received an Elizabeth George Foundation writing grant based on Kilmoon. Ever distractible, you may find her staring out windows, dog walking, fooling around online, or drinking red wine with her friends. Ireland, books, animals, photography, and blogging round out her distractions. Lisa lives in the Pacific Northwest. Kilmoon is her first novel.
You can find Lisa at: website | Facebook | Twitter | blog
How about you?  Have you ever used a coach for any aspect of your writing career? Please comment!