Everything You Ever Wanted to Know About Viewpoint But Were too Confused to Ask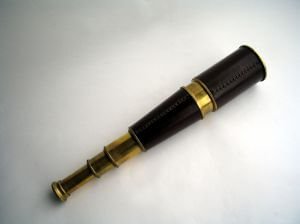 This is the blog post on viewpoint I promised in my last post, wherein I talked about how I judged a writing contest and nearly all the entries had problems with sketchy world building and viewpoint.
Getting viewpoint wrong sinks your manuscript from the get-go.  Send an agent a story rife with viewpoint violations and kiss any chance of representation goodbye.   Viewpoint slips look amateurish and annoy the reader, who may not know exactly why they are annoyed, just that they are. 
And you do not want to annoy the reader.
I am the Chief of the Viewpoint Violation Police, much to the chagrin of my bi-weekly writing group that meets here in town.  You got a viewpoint lapse, even a subtle one, and I'll find it.  And I also have a simple way to master it.  Here goes:
That's actually the name of a Broadway play based on a Christopher Isherwood book, but I've always liked it as a way to remember viewpoint.  Whether you are writing first person or third person, when you are in a character's viewpoint you are in their head and all the reader can see is what that character sees.
I am a camera, or he, she or it is a camera.
So, if you have a scene in which your protagonist (we'll call her Beth) talks to her mother and her mother is riled up about something, Beth can only intuit the upset from her mother's dialogue, facial expressions, body language, and actions.  But Beth cannot leap inside her mother's head and relate how mad she is.
Correct (if clunky): Beth watched as her mother furrowed her brows and tightened her lips.  "You must be joking," her mother said.
Incorrect:  Beth watched as her mother furrowed her brows and tightened her lips.  She felt so angry at her daughter.  "You must be joking."
The incorrect part?  The sentence that dives into Beth's mother's head:  She felt so angry at her daughter.
That's head-hopping, people, and it will make your reader feel they are at a tennis match, watching the ball bounce back and forth across the net.  Remember: your character has a camera in her head, and everything it records, you, as the author can record.  But nuttin else.
Employing multiple viewpoints
If you are using multiple viewpoints, make it clear to the reader when you switch heads, and do it either at the start of a chapter, or the beginning of a scene, i.e., after a white-space break (four single returns).
Remember that any character you choose to write in viewpoint will automatically become better known to the reader (we'll be in his head, after all) so choose accordingly.
Now comes the point where you ask me about using omniscient viewpoint and I say: Don't.  Just don't.  I don't allow any of my students or clients to use because I'm fussy that way and mostly because it is really damn freaking hard to do right and most people screw it up.  Omniscient viewpoint is the God viewpoint where you're jumping into characters' heads at will and done poorly, which it most often is, it simply looks like a viewpoint violation.  
Single viewpoint
If you're writing in first person, odds are good you'll stick to one character's viewpoint.  (It used to be a big no-no to have a multiple first person viewpoint novel but standards have relaxed lately.  It is still not as common, however.)  I'm a single viewpoint kind of gal because I love getting inside a character's head and getting to know her and her world view intimately.  I wrote Emma Jean in a third person singular viewpoint–we're in Emma Jean's head the entire length of the novel (which I admit can get a bit suffocating).  The novel I'm currently plowing through (almost done with the first draft) is written in first person, entirely in the protagonist's point of view.
By the way, most writers I know use the terms viewpoint and point of view interchangeably so don't let that confuse you.
Questions?
Okay, what have I forgotten?  (I always forget to mention things and then my brilliant readers bring those things up in the comments and that makes me happy.)  If you have a question or problem with viewpoint, leave a comment and I'll answer.  If you don't have a question, I have one for you: do you struggle with viewpoint?  How do you keep it straight?