Guest Post: Naked Writing
Stop your dirty little minds, this post is not what you think its about.  And put your clothes back on! This is not about sitting at the computer writing while naked.  No, its much more valuable, it is about no-frills writing can deliver action and excitement better than its ruffly, prissy sister.  It's good stuff.
And, as excited as I am about sharing this post from my wonderful friend, fellow author J.D. Frost, I'm even more thrilled to announce the august news that accompanies this guest post: J.D.'s mystery novel, Dollface, was just published!  You should take one second and go buy it right now.  Seriously. Because I just finished it and the novel is a great read.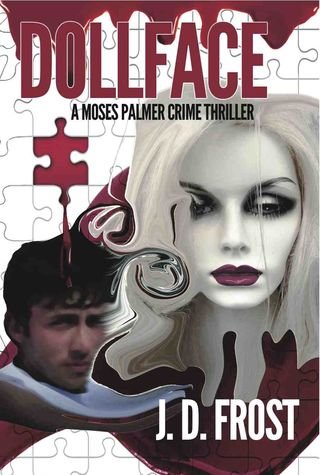 Okay, okay, on to the guest post, but read more about J.D. at the end.
Naked Writing
In the opening of The Client, John Grisham uses sentences with no frills, just action and excitement. I call this non-decorative method naked writing. Let's examine the first 40 pages of this great thriller. Follow along.
It begins with a description of the protagonist and his brother. Mark is 11. His brother is 8. That's it. That's the description. Does Mark have eyes as pale blue as the September sky or the deep rich hue of sapphires? We don't know. Is he cute … big? No clue. On page 24–twenty-four!–we discover the color of Mark's hair with the following passage from Ricky's viewpoint: "But he knew his brother was alive because he had darted behind trees for fifty feet until he caught a glimpse of the blond head sitting low and moving about in the huge car." This sentence is a far cry from "He had blond hair." Look at the movement. Nothing static. We have identified with Mark and Ricky. Things are happening. We don't have time for looking in the mirror.
Is it hot? Cold? Is the book set in spring or fall? Don't know. Number One in Elmore Leonard's Ten Rules of Writing is "Never open a book with the weather." On page 7, the sun hid behind a cloud just before a sinister turn in the action. A little cliche but hardly noticeable. The sky darkens again on page 24. Why doesn't he tell us that it is … summer? Would it add anything? The cloud over the sun hints at a dark turn. The tension increases again when a cloud blocks the sun on 24. That's all the weather we get. This is Mark's story. A lot is going on! He's not gazing around at the sky. Maybe you could make a case for the weather if Mark were 74.
And another thing: Where are we? Are we in New York? Los Angeles? Our first clue comes on page 15 with this absolutely great passage: "I've never shot this thing, you know," he said almost in a whisper. "Just bought it an hour ago at a pawnshop in Memphis. Do you think it'll work?" Brilliant.
So he gives us no description of Mark or Ricky. But he's inconsistent! On page 28, he describes the bad guy–in detail. "The shoes were shark and the vanilla silks ran all the way to the knee caps … The dark green suit had a shine to it and appeared at first glance to be lizard … The hair was black and full, colored to hide a bit of gray, slicked down, laden with gel, pulled back fiercely and gathered into a perfect little ponytail that arched downward and touched precisely at the top of the dark green polyester jacket." I love this. This is a bad dude! But why does Mr. Grisham give us more of this guy's appearance than the main character? Maybe because this is Mark's p.o.v. He is not in this scene, but this is his world and he is examining this man who has stepped into it. Luckily, we get to tag along.
I don't propose we write without adjectives. Grisham's sentences are full of movement and action, and the description we need comes from the movement of the characters through the scene. After I read this opening, I couldn't help but continue. I hope this has been helpful. I have learned a bit. I thank John Grisham for giving us this great legal thriller. And may you write the stories in your head, my friends, exactly as they play in your mind. J.D.

J.D. Frost is the author of DOLLFACE. Two of his short stories have been published, one in NUVEIN magazine and another in CHRISTMAS IS A SEASON! 2009. He is a graduate of the University of Alabama in Birmingham. He lives near Huntsville, Alabama, where he is at work on the 2nd Moses Palmer mystery.
What do you think of J.D.'s naked writing theory?  Do you prefer stripped-down scenes or more flowery ones?
Photos courtesy of the author.