Come to France With Me in 2015
Just saying right off the top here–this is a teaser post.
Because you want to come to my next writing retreat in France, don't you?  You know you do!  We don't have every detail confirmed yet but we have decided where we will be.  Ready?
Collioure, France.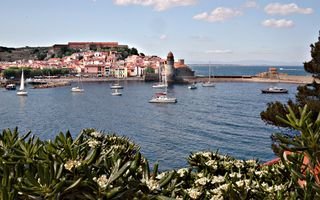 It is a seaside town with mountain views, and also the twisty, curvy medieval streets I love so much in part of it.  Tons to explore in the town itself, and many wonderful things to see nearby. Collioure is in the Languedoc-Roussilon region of France, and I can personally attest to the wonderfulness of their wines.  It is near the border with Spain (you could take the train from Barcelona if you so desired), in the south of France.
So, yes, that's the location.  But let's not forget that this will be a writing retreat/workshop.  I've had some questions about how this works, so here is the scoop:  Every morning (Sunday-Friday), we meet from 9:30 to 12:30 for the workshop.  This time is devoted to mini-lectures from Debbie and myself, and discussion about the designated subject (an aspect of writing).  We assign a book in common for all to read, from which we draw examples. There's in-class writing and every day, we give an assignment, which will then be discussed in-depth the next day.  (For an example of this year's schedule, click here.)
But we're not all work and no play.  Huh-uh.  Yes, you will have assignments to work on, but there will also be plenty of time to explore the town and a field trip or two to other locales.  And we have been known to enjoy the local wines, um, quite a bit, when we reconvene in the evening for talk and food and drink.
There's also the option for staying on for a second (non-writing) week.
Stay tuned.  Debbie and I are meeting next week to work on the schedule, and we'll have that posted as soon as we can.  We've got quite a long list of people who have expressed interest in the workshop this year, so drop me a line if you want to nab a space!