Thanksgiving: No Whining on the Yacht
Today is Thanksgiving in the United States, a day to eat too much turkey and stuffing and mashed potatoes, and show our gratitude for, well, everything.  And because of that, I highly doubt that many of you are reading blog posts or newsletters today.  So I'm going to keep things simple today, with a reminder that nearly all of us can appreciate: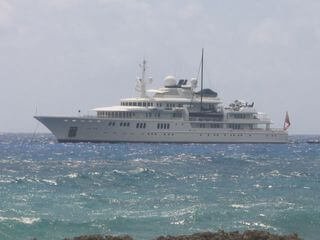 No Whining on the Yacht.
I get that there are many people suffering all around the planet.  I am deeply, truly sorry for their pain and wish I could wave a magic wand and have it all go away.  However, for most of us–likely you who are reading at this very moment–things are pretty good, at least comparatively speaking.  We are passengers on a yacht and rather than appreciate it, we complain.
Things are good are for me, too.  Yes, I would love to lose a few pounds.  And gain a few dollars. And I wish to God my house were more organized.  But, honestly?  Beyond that I am rich in blessings.  I have great health, a satisfying career, a wonderful family and a passel of amazing friends.  I have a warm house with a fire we light on cold nights, and a big backyard with a deck we enjoy on warm nights.  I have hobbies I enjoy.  Two fat cats and two adorable grandchildren. 
I get to rise every morning and write, which besides the afore-mentioned grandchildren, is my biggest blessing in the world.  I am rich in blessings. I am dripping in them. I am immersed in them.
And sometimes I forget that.  I think we all do.  Instead, I like to bitch and moan about things. Kvetch about the state of the world.  Go on…and on…and on about what's wrong and why it is so unfair to me.  
But more and more these days, I am working to catch myself when I do this.  Because, complaining is really nothing more than a bad habit. And so, on this day designed to remind us to count our blessings, I offer you this: 
Will Bowen started this project as a little thing his church could take on and it mushroomed into an international movement.   You can order his bracelets (cheap and well worth at $10 for 10) and wear it to remind you not to complain.  Every time you do complain, you switch the bracelet to the other arm.  The goal is to go 21 days without complaining.
A brief aside: one thing I've noticed about my efforts to quit complaining is that I may not always be able to stop myself from complaining, but if I catch myself I can then ask myself why I'm complaining.  And sometimes that reveals a deeper concern that needs to be addressed.  (And sometimes often it just reveals me being bitchy.)
So go forth and quit complaining.  No whining on the yacht, guys!  
I'd be grateful if you left a comment telling me what you are grateful for!
Photo by MC Hart.