This is a post about cookies. Yes, cookies. Christmas cookies, even!
I was tagged by my purple-haired Twitter friend Kristina Martin (we live across the river from each other but have never met in person–one of these days, I hope we will) to participate in a Virtual Cookie Exchange Blog Hop.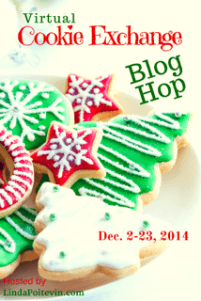 My first thought was that I don't do this kind of thing.  This is a blog about writing, for Chrissakes.  I thought that very loftily, I might add, especially since its been quite some time since I baked cookies. But then I realized that I have the perfect cookie recipe to share with you.  And that a Virtual Cookie Exchange Blog Hop sounded like fun.  And that one of my goals over the last couple of months has been to branch out some on this blog, with personal posts every Wednesday.
And so I said yes.  To paraphrase something Kristina said on her post about the cookie exchange, the things I do for people.
But, honestly?  You are going to thank me for writing this post.  You are going to bless me for this cookie recipe.  Because it will save your bacon over and over again, as it has for me for years.  It is our family cookie recipe that we've all made since forever.  It is so easy you can always remember the ingredients, and also you will always have them on hand.  You can make it plain and simple, or you can add things to it.  (Don't tell anybody, but its really not a Christmas cookie recipe.  But if you add stuff to it, you can make it work for the holidays.)  And most importantly, this cookie recipe is freaking delicious!  As in, eat-every-cookie-in-the-batch-delicious.  (The dough is to die for also.) 
Also, this cookie recipe is gluten free.  It was gluten free long before GF became a thing.  Truly, I've been making this cookie recipe for 30 years, and who had heard of gluten free back then?  Nobody can believe it when I tell them it has no flour in it.  And on dark days when you desperately need sugar you can actually convince yourself that these cookies are good for you because they have protein in them.  
Okay, enough of the big buildup, here's the recipe:
World's Best Peanut Butter Cookie Recipe
1 egg
1 cup peanut butter
1 cup sugar
That's it.  Those are the only ingredients you need, trust me.  Mix everything together and drop spoonfuls onto cookie sheet, then smoosh them with a fork in that way we do with peanut butter cookies (dip the fork in water if you need to).  Bake at 350 degrees and check them after 10 minutes, though they will likely take longer.
Adaptations:
–My daughter has tried this recipe with Splenda, but it didn't come out so well.  You might have better luck, though.
–Add chocolate chips
–To make them more festive for Christmas, put red or green or both sprinkles on them
–You could also try adding M and Ms or other candies as you like.
But they are also delicious just plain!
And now, part of my deal with this exchange is to tag other people to participate.  These four will post their recipes and posts in one week, on December 23rd.  I choose
Kayla Dawn Thomas, romance writer extraordinaire
Patty Bechtold, amazing counselor and life coach, artist, and insightful blogger
Suzanne Peters, baker of divine gluten free goodies and real foodie
Beverly Army Williams, wonderful novelist, writing teacher and fiber artist
(I have glorious internet friends, don't I?  I encourage you to visit all their sites, even before the 23rd.)
Since are talking cookies, how about chiming in and telling us about your favorite cookie to bake or eat at Christmas?