5 Things on Friday: I'm Baaaaack Edition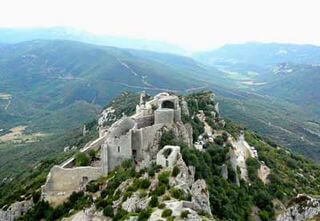 Where I've Been: Europe. Spain and France, to be specific. I was there for our annual Let's Go Write workshop, which this year focused on structure and was a grand success.  This year it was held in Collioure,  a lovely seaside town in the south of France.  And guess what? Despite a busy teaching, sight-seeing, and cavorting schedule, I wrote a whole chapter–5,000 words–while in Collioure.  So to those of you who have asked if we really get any writing done, the answer is yes.
What I Saw: An Asian couple falling prey to scammers near Notre Dame, houseboats I want to live in on the Seine, a huge un-neutered pit bull at a sidewalk Tapas bar in Barcelona (apparently neutering male dogs is not a thing over there), stone steps up the side of the hill in Collioure and another beastly set leading to an ancient castle ruin, a fascinating medieval cloister with old stone carvings, one of the most beautiful villages in France, the amazing Sagrada Familia, heated towel racks, a precious little needlework stor  in Paris, and more, much, much more. (I took tons of photos throughout the trip, and you can see them all on my Instagram feed.)
What I Ate and Drank: Orangina by the quart (funny–I don't drink pop here at all, ever);  red wine by the gallon (the wines of the Languedoc region are superb and cheap); a divine confit du canard (duck) our last night in Paris, tomato toast at every Tapas bar (they don't call it that but I do),so much entrecote and frites (steak and fries) I finally got sick of it, tons of pate, cheese, and excellent French bread.  Also amazing butter, tomatoes, radishes, and melon.  Oh! And the jamon (ham) and sausage in Spain.  J'adore.
What I Read/Watched:  I only read one book while gone–Splinters of Light by Rachael Herron.  I love her books but this one was my least favorite.  One reason I didn't get a lot of reading done was because I've learned that watching movies on the loooooong (11 hour) plane trip makes the time go faster.  Sort of.  On the trip from Atlanta to Barcelona, I watched Life Itself, the documentary about Roger Ebert, which I highly recommend, and True Story, which was a meh for me.  On the flight from Paris to Salt Lake City, I watched: Finding Vivian Maier, Before Sunrise, The Rewrite, and Still Alice.  I liked all of them.  And I think every writer should watch The Rewrite–its about a failing screenwriter, who, in desperation, takes a teaching gig at a small New York college.  And plus, its Hugh Grant! 
I am currently reading Labyrinth, by Kate Mosse, a book I bought at the gift shop at Perpeyteuse, and Big Magic, Elizabethe Gilbert's book on creativity.
What I'm Excited About: The CNN app on my phone.  I can stream news live while I cook! I watched coverage of the Pope in America as I made an Ina Garten Tri-Berry Crumble for my husband's birthday.  Its as good as having a TV in the kitchen.  And, most especially, meeting the new member of our family, who is not here yet.  My daughter is due to deliver her second boy any day now.
I'm also excited about fun, creative events coming up this fall, like a day-and-a-half publishing workshop Debbie and I will be putting on in November (dates TBA soon, we've had to change them rather abruptly), my novel-writing class, and more juiciness to come!
Image of Peyrepeteuse, home of the beastly stone steps,  from this site.