Christmas Movies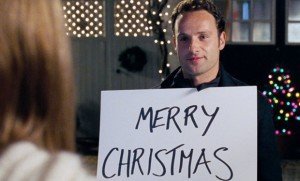 It's a few days before Christmas, and I still have shopping to do and presents to wrap.  And cookies to bake. Forgot about that.  So what am I going to do tonight? Watch a Christmas movie, of course.  Because, Christmas movie. Enough said.
In general, I'm a terrible movie watcher, which is ironic for a couple of reasons.
#1 is because going to see a film at the movie theater is one of the great pleasures of my life.  I love every bit of it; buying the crummy popcorn, watching the stupid advertisements, worrying that the people behind me are going to talk all the way through the movie.  There's something about the good old shared experience of watching a film that I just really enjoy.
And #2 is that I often study–and recommend–screenwriting books to apply to novel writing.  Those screenwriters, man they have structure down.  And structure is one of the hardest things for a novelist to master, at least in my opinion (and I'm fully aware that might just be my issue, though I see it in students and clients as well).   And, yeah, I get it, reading screenwriting books without watching movies is sort of like writing a novel without ever reading one.
But for some reason there never quite seems to be enough time to go to the theater.  And I'm terrible about watching movies at home. I get antsy, for one thing.  But worse is my genetic propensity to fall asleep in front of the TV set. (I can't tell you how many stellar performances I missed on The Voice this year.) It truly is genetic.  My mother was famous for dozing in her chair watching Frazier, her favorite show, with a stack of half-read newspapers in her lap. My sister falls asleep in front of the TV and so does my daughter, who loves to tell the story of how she fell asleep during one of her first dates with her husband.  He did marry her anyway,luckily.  Putting up with slumbering women is apparently a prerequisite for marrying into this family.  To this day, my husband pretends he believes me when I tell him I'm really not asleep and I haven't missed a thing.
But Christmas movies.  They are different.  We have several that are required watching every year, and for some weird reason I don't fall asleep.  I could probably recite every line of every scene of these movies, and yet I don't get bored and pass out.  Go figure.
I have no idea why I don't fall asleep during them, but I have been thinking about what makes them enduring, and that is just plain old-fashioned good writing: characters you care about, plot lines that have some teeth.   With the exception of a couple on my list, you could take the background of Christmas out of them and they'd still work.
I keep waiting for Hollywood to come out with a new classic Christmas movie I can add to my list but that hasn't happened for quite a few years.  In the meantime, here are our favorites:
Must Watch
National Lampoon's Christmas Vacation. There's no better way to start the Christmas movie viewing season than with this classic of goofiness which really does exemplify the crazy intentions we set for a perfect holiday.
Elf.  Yes, Elf.  Its a great screenplay and a great cast–James Caan (one of my all-time favorites), Will Ferrell, Mary Steenbergen, Zoe Dechamel. At a dinner party a few nights ago, I was shocked to find people who had never seen this movie.  It really is worth it. (It is actually showing at the Laurelhurst, if you live in Portland.)
Love Actually. If I could only watch one Christmas movie, it would be this one.  Like all things that have to do with love, it is easy to mock. But I love it.  So there. (And if you are a fan, also, here's a link to some tidbits you might not know about the film.)
Will Watch if There's Time
White Christmas. I'm not the best for old movies, but I do love this one.  Bing Crosby, Danny Kaye, Rosemary Clooney–what's not to like? Plus, the ending where the big door opens up and the snow falls down is one of my favorites.
Meet Me in St. Louis. Not technically a Christmas movie, but still.  I'm not as big as fan of this as some of the other oldies, but my husband loves it so I watch it.  Once in a great while, anyway.
Can Watch Between Christmas and New Year's
The Holiday.  This was a movie that appeared and disappeared in the theaters, but for some reason I love it.  In some ways it is tied more to New Year's Eve and though its set at Christmas, there's not a lot of Christmas stuff in it.
So that's my short list of Christmas movies.  We've managed to watch the first three so far this season. Of course, this year I really am going to the theater the day after Christmas to see the new Star Wars movie.  (I don't even know its proper name.  Everyone refers to it as the new Star Wars movie.)  And by then I'll probably be back to my usual falling-asleep-in-front-of-the-TV routine.  But I'll have had my fill of Christmas movies by then.
So, tell me in the comments.  What are your favorites?  Which movies do you like to watch over and over?