Inspiration from Room to Write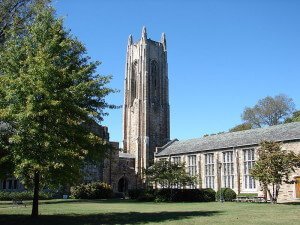 I just got home from Nashville, where I co-produced the re-instituted Room to Write, along with Terry Price and Janet Wallace.   This event is not a writing conference.  Rather, as we like to say, it is a time for uninterrupted creativity.  While we did offer several talks throughout the weekend, they are totally optional, because the point of the weekend is to give you time to get away and write.  So we emphasize that if you're in the flow with your writing, stick with it and don't come to the sessions.
The event is held at the Scarritt-Bennett Center in the heart of Nashville, a gorgeous spot that is a former college. As such, it is dotted with cool old stone buildings and beautiful mature trees.  It's a very popular spot for weddings. Each participant gets several meals in the Harry Potter-style dining hall and a room.  The rooms are, shall we say, spartan, and most of them share a bathroom.  When I say spartan, I mean spartan: one single bed, one desk and a chair.  I've actually grown quite fond of these rooms and am able to do some great writing in them–like I'm holed up in my own little writing cave.  But participants also have free run of the entire campus and many of us ended up hanging out in Lasky, where they serve coffee and there's lot of places to sit and write.  I got a lot of good writing done up there, too.
I could go on and on about what a great time I had, including dinner with my student Norma at Epice and lunch with the beloved J.D. and Donna at Chuy's, but my real intent here is to share with you some good info I gleaned from the presentations.
Labyrinth Walk
First up was Terry's labyrinth session.  We met in a fine mist at the SBC labyrinth, which is based on the one at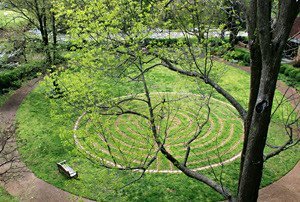 Chartres Cathedral.  Terry is a labyrinth fiend and full of great information on them.  A labyrinth can be used a lot of different ways, but it is most often used for  spiritual or creative purposes.  It is one path with no tricks and no dead ends, unlike a maze.  You just follow the marked path (in this case, it is a grass labyrinth delineated by bricks) all the way through.  It will lead you to the center and back out again.  You don't even have to think, and the point is not to.  It can be useful to ask a question before you enter the labyrinth and most often you'll receive an answer before you depart.  Keep your journal handy!  I've walked the labyrinth many times and this is the first time I've failed to get an immediate answer, though it did come to me later.  If you would like to find a labyrinth near you, check out this site, which lists labyrinths all over the world.
Sustaining a Writing Practice Over the Long Haul
This was my session, and I had a great time.  Since we were a small group, I invited everyone to chime in with comments and questions as we went along and it turned into a great discussion about how to keep to the page.  I divided it into 4 segments: writing, doing something writing-related, doing something that will lead you back to your writing, or doing something that will support your writing.  The feedback that I got was that the ideas were very helpful and so I'll probably work them up into a blog post or two in the coming weeks.
Creating From Wildness Through the Poetry of Rumi
This was another great session from Terry, using Rumi's work to encourage wild, mad creativity in our writing.   It was a rich, deep session.  As one of our attendees said, "Terry is like blood pressure medicine," and he is.  Very chill and calming and wonderful.  Here's a snippet of the Rumi poem, I'll Be Mad, to give you the flavor of it.
Forget safety. Live where you fear to live.
Destroy your reputation. Be notorious.
I have tried prudent planning long enough. From now on, I'll be mad.

Leaving the Writing Cave and Building the Dream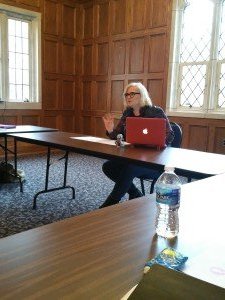 Janet's presentation on the mindset and marketing pieces we writers need for the business side of our lives was powerful.  She alternated between mindset recommendations and marketing advice.  Examples of mindset are: make peace with your desires, nurture your relationship with money, improve your gratitude, practice self-care of greater success faster, and nurture your relationship with time.  For marketing: write a personal manifesto, get clear on your ideal customer (or reader), use social media to build community and sell your books, find your tribe and continue to thrive.  Great stuff.  I took a ton of notes.
Besides the sessions and the blocks of time to write, another great aspect about Room to Write is meeting your tribe of writers.  We enjoyed an opening Happy Hour event to discuss goals and ended with breakfast at Panera on Sunday morning to talk about what we accomplished.  In between, there was much camaraderie over meals, a few spontaneous tarot readings, new friends and contacts made.  All in all, a wonderful time, well worth flying across the country for.  Of course, Nashville is my second home so I'll head there any time!
Are you planning to attend any writing retreats or conferences this year?