Five on Friday: February 5th
Not much going on here but a whole lot of rewriting, about which I hope to have a post soon.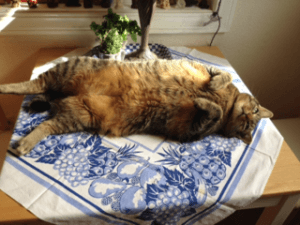 What I'm Watching: Madame Secretary (created by Barbara Hall, who seems to be a creative machine, and oh hey, we share a birthday) and American Idol. I know, dorky. But it is the last season. Okay, I'll admit it, I'm a fan of AI, but even more so of The Voice. Dean Wesley Smith maintains that watching The Voice is one of the best ways to understand what it takes to make it in a creative field, and I agree.
Who's sleeping beside me as I write: My cat, Lieutenant.  His brother, Captain, is prowling the kitchen for food. Or plastic bags. Captain loves him some plastic bags.
What I'm interested in: Suddenly I can't get enough of the presidential race. I'm fascinated with the interplay, if that's what we'd call it, between Hilary and Bernie. As for the Republicans, well, buffoons.
What I'm reading: Fates and Furies, still. It is not a quick read. I'll likely finish it tonight. And then I have a huge stack of books from the library to peruse.
What my favorite dinner was this week: Acorn squash stuffed with ground lamb, onion, sage, thyme and fennel, shared with my daughter and her family who ended up spending the night here, baby in tow, when the power went out at their house.
And that's it, that's all I've got.  What's up with you?