Writing More is Easier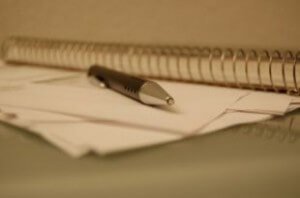 Yes, you read that headline correctly. I am going to set about telling you why writing more is easier than writing less.  KEEP READING. I know you were about to click away when you read that writing more bit. But stick with me.  You can throw tomatoes at the end if you like, but at least give my brilliant and thought-provoking words a ponder.
Years ago, (not even going to tell you how many), when I was learning to drive, my sister would sometimes take me out to practice. (Seeing as how she was only three years older than me, that would be illegal today.)  There was one curvy stretch of road fronting the air base that tended to be traffic free, which is where we headed. As I got behind the wheel, my sister urged me to step on the gas, saying "Driving faster is easier than driving slower."
While the fact that I had three older sisters to share such helpful tidbits  might explain a lot about me, it also illustrates the principle of writing that I want to share: more is better.  But first, let me mention another example, that of meditation.  Yes, yet another topic you don't want to hear.  I've experimented with meditation for years and never managed to get a regular practice going. I'd sit down for five or ten minutes, as the experts told me, planning to gradually increase my time. But here's the deal: nothing happened. I felt no effects from it. Only when I regularly carved out twenty minutes of time to practice did the benefits begin to accrue.
And now back to writing.  I have been a bit stymied with my WIP.  This first draft is a mess, complete with all caps notes to myself like THIS IS THE WORST PIECE OF CRAP EVER AND THIS SCENE MAKES NO SENSE.  I'm not kidding.  I was rocking along, forcing myself to write 500 or 1,000 words a day.
But one day, I managed to eked out 2,000 words. And suddenly I enjoyed writing it again. I set a goal of 2,000 words a day (generally accomplished first thing in the morning) and started flying.  Not only were the words piling up, but I fell in love with the story and the characters all over again. The more I wrote, the better I felt.  Truly, committing to a higher word count a day became easier than trying to get excited over 500 words.
Here's why I think this happens:
Mental momentum.  When I get more accomplished each day, I think about it more.  The characters pop into my brain throughout the day, and I find myself scribbling notes often.  By writing more, I'm engaging my brain more.
Encouragement.  Man, its nice to see that word count pile up.  I was despairing that I'd ever write a eke out a full novel with this story and suddenly I have 75,000 words.
Writing fast.  In order to accomplish my goal, I have to write fast and not worry too much about getting it perfect.  This allows me to get the story on the page and push through the doubts. Much better than wringing my hands because I don't know where to go next
Writing breed writing.  Or, the more you do, the more you can do.  Just like energy breeds more energy–its all true.
It gets easier. The more you write, the easier it is–and I mean this in terms of having ease as you are writing. If you only write a little bit once in awhile, your writing habit is rusty and it is hard. But if you're writing a lot every day, you get into the rhythm of it and fingers fly.
So that's my story and I'm sticking to it because it is true. So say I.  What say you? What's your word count goal?
Also–a note for regular readers.  Do you remember a post I did recently called Meditation for Writers? It would have been since the start of the year, or at the very end of last year. I am certain I wrote the damn thing, but I can't find it to save my life.
Photo by len-k-a.