Five on Friday: Good Friday Edition
What I'm writing: Draft Two of my first romance novel.  I am living proof that you can write a Really Shitty First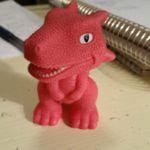 Draft and make it into something.  With previous novels, I've known more about the plot and characters and thus had a more polished first draft (still crappy, though).  There are many places in this one where I write in all caps things like I DON'T KNOW WHAT THE HELL IS GOING ON HERE, and I really didn't.  There's tons of boring narrative summary and endless paragraphs of characters thinking, thinking, thinking.  But I got the story down–and now I'm having a blast figuring out better ways to present it to the reader. I'm pretty happy with it.  So if you're in the middle of a draft that you're despairing over, take heart.  Oh and here's a pertinent quote I found today:
"Every first draft is perfect because all the first draft has to do is exist." Jane Smiley.
I love it. By the way, that photo to the left is of Horn Seven. He's my new writing buddy, given to me (and named by) my grandson to sit by my computer. (Follow me on Instagram for lots of photos of the writing life. Well, my writing life anyway. IG is my current favorite social media.)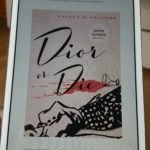 What I'm Reading: Story of Your Life, by Ted Chiang, and Dior or Die by Angela Sanders.  The first is a collection of short stories, one of which the movie Arrival was based on.  Chiang is the current darling of the sci-fi world and I waited months to get this book. And…I'm fascinated with it but it makes me feel dumb because I don't always get the stories.  Sigh.  Dior or Die is another great mystery by my friend Angie. Go buy it and read it.
What I'm Watching: The current American Experience: The Great War, about World War I. I'm now fascinated with this era, thanks to the Maisie Dobbs books. (Book two in the series is next on my reading list. It will actually be the third one I've read, because the one I found that introduced me was way out of order.)  Anyway, it may or may not be true that I fell asleep on the couch watching American Experience, but still, it is worth mentioning.
What I'm Excited About: Nia, an exercise class. I wrote a whole thing about it in my newsletter that comes out this Sunday. If you're not on my list to get it, you can subscribe from that banner up top. And you might want to, because I mentioned something exciting in it.
What I'm Excited About 2: Ordering groceries online. THIS IS THE BEST THING EVER.   A huge time saver for me. I'm not a human that likes going to the grocery store. At all. Ever. So this is a godsend.
Happy Good Friday and Easter, everyone. Hope you get some writing in even though its a holiday weekend!
PS. As I've mentioned, we are offering two sessions for the France workshop this year. But the first session is full (though we could accommodate you if your begged, or bribed us), and the second session is filling up fast.  So check it out!