A love letter about having, and deserving, good tools (A love letter)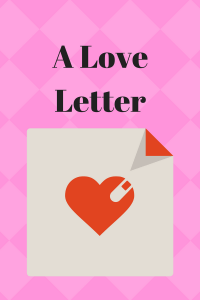 Recently, I got a new computer, the one I'm writing this newsletter on.  It's a Macbook Air, and I love it. Working on this computer makes everything easier and smoother and faster.  Working on this computer makes me happy.
My previous computer was two years old; a very inexpensive PC. I liked it well enough. I thought it was just fine. But it wasn't until my cat threw up on its keyboard that I pondered getting a new one.  (Only the keyboard was damaged, the rest worked fine. So, for a while I carried an external keyboard and mouse around with me.) I went kicking and screaming to a Mac, buying one only because I want to run Vellum, the book formatting software on it, and it is available only for Macs.
And now I'm in love.
The other day I had to check on something on my old computer.  I was stunned at how slow it was, how long it took to connect to the internet, how clunky it felt. (And let me be clear, this is not a rant against PCs, I like them. It was more about my poor, overworked computer.) But as I worked on it, I remembered: this was previously what I struggled with every day.
So why didn't I get a new computer earlier? Because new computers are expensive. Because I told myself I didn't need one. Never mind that I use it all day every day. I told myself the one I had was just fine. Never mind that it was slower than trying to get a toddler to do something he doesn't want to do. Just never mind.
I guess I should thank my cat for vomiting on the keyboard because now I realize how much I was putting up with. Settling for.  And pondering all this has made me think that maybe there's still a bit of that old residual feeling of, but I'm just a writer. I don't need anything fancy. For some of us it may even be a reluctance to admit that we are writers.
So many of us have self-doubt about our role as writers. And even though I've been a professional writer for years, I still sometimes struggle with this, too. When I read a story about a humanitarian building schools in Africa or a teacher changing the lives of children or an activist accomplishing great things I get deflated.  And start to think that all I'm attempting to do with my so-called life purpose is entertain people.
And then I remember one of my favorite quotes of all time, from Christopher Vogler, author of The Writer's Journey:
But take heart, because writing is magic. Even the simplest act of writing is almost supernatural, on the borderline with telepathy. Just think: we can make a few abstract marks on a piece of paper in a certain order and someone a world away and a thousand years from now can know our deepest thoughts. The boundaries of space and time and even the limitations of death can be transcended.
And when I remember it is magic, I feel better about my role as a writer. I hope that you will, too. And also remember that because you are a magician, you deserve the best tools, be they a computer or the special pen you love or that expensive paper that feels so good to write on.
Indulge yourself. You deserve it. You're creating magic!
Don't forget to join the Facebook group!
This is a reprint of my weekly love letter, which you can receive directly into your inbox by filling out the form to the right.  No spam, promise! Just weekly letters and announcements about classes and books.