Go With The Flow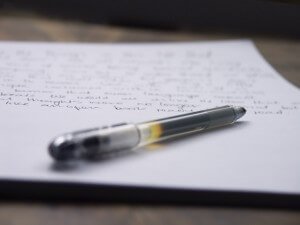 This morning when I got up at my usual early hour (made even earlier this week with the time switch), I had plans to work on the rewrite of my novel. Because that's what I do when I get up early to write. It is my sacred time, devoted only to writing fiction. (Except for those times when I, ahem, devote it to reading blogs and interesting news articles.) It is part of my daily morning routine.
But this morning I awoke and the juicy bits at the top of my brain were for newsletters.  (Which, if you don't know, I send out every week–I post them here but you can get them right into your inbox by filling out the form to the right.)
So I did what any self-respecting writer would do–I argued with myself. Told myself I HAD TO WORK ON THE NOVEL AND NOTHING ELSE.  But the newsletters wouldn't let hold of my mind. And when I tried to connect with my novel, nothing was there. It was like a blank wall in my brain.
And so I grudgingly did what my brain was telling me to do.  I ended up knocking out two newsletters (I'll be out of town next week so I'm setting one up ahead of time) in no time at all.
What would have happened if I hadn't gone with the flow? Knowing me, I most likely wouldn't have gotten either the newsletters or the work on the novel done. Instead, in trying to force my brain somewhere it didn't want to go, I would have ended up not doing either and heading off to my procrastination default of farting around on the internet.
And now, later on in the afternoon, I'm going to steal an hour or so to work on that novel rewrite after all–because I got everything else done. So sometimes it is a good idea to release expectations of what you should be doing. We should ourselves way too much anyway.
What do you should yourself about? Leave a comment!