All the Different Ways to Write (A Post on Process)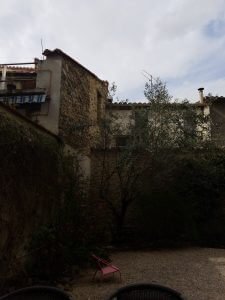 I'm sitting at a table on a terrace in Ceret, France, thinking about writing processes. (That's my view in the photo to the left.) Okay, I'm also thinking about the wine and cheese and bread we'll have for dinner. And taking a walk through the charming town in a little bit. And the delicious quiche and salad I ate for lunch in said charming town.  Oh, and I'm thinking about my WIP, too. Proof is that I've written five chapters since I arrived here on March 3rd.
One of the reasons I'm thinking about process is because I read and enjoyed this post today. I love reading about people's specific processes. The other reason is that I'm here amidst other writers, all of us trying our best to make great progress on our projects.  And it is fascinating to get a close-up view of how other's work.
Here are some of the different ways to write:
—Planner vs pantser.  Do you plan everything ahead or just go where the writing winds take  you? You'll find strong and vocal adherents to both way. And, just as many like me who fall somewhere in the middle. I really, really, really need to know where I'm going next or I will wander off and read knitting blogs instead of writing. But I write what I call a loose outline, which is really more of a list, and allow the story and characters to develop as I go.
–Chronological or all over the place. I, with few exceptions, write in strict chronological order. I like to allow my chapters and scenes to build on each other. But I know plenty of people for whom this would be torture. They want to write whatever scene feels the juiciest to them in the moment.
–Write fast or edit as you go. I am of the write-as-fast-as-I-damn-can persuasion. And then I fix things in subsequent drafts. Often, I am convinced that what I am writing is pure crap. And sometimes it is. But just as often, I'm surprised by what I've put on the page. It needs work, yes, but it is not as bad as I've thought. A couple of writers here on the retreat are pushing to get to the end of first drafts and doing the write fast thing for the first time. It's a bit uncomfortable for them but they are doing it!
–Marathoner or sprinter. Do you write in bursts and then take breaks? You're a sprinter. Or do you sit down to write and only hours later stand up, realizing how much time has passed? Marathoner.
–Scrivener or Word. I really, really, really, want to like Scrivener but every time I try it I get so confused I give up. Once it ate my draft, too. And that's just rude. So we've not yet become pals. So I'm a Word girl myself. And I do know that Scrivener has many rabid fans out there. I need one of you to sit down with me, hold my hand, and teach me how to use it.
–All one file or separate ones.  When you're working on a long project, such as a novel or memoir, do you put it all in one large file, or create a new one for each chapter and compile later? (And yes, I know there's "easy" ways to deal with this on Scrivener. But you'll have to come show me.) I've done it both ways. I'm having a brain fart, but I'm pretty sure the last novel I wrote was all in one. The new one is in separate files. It's a pain to go back and check things in previous chapters, but then so is scrolling and scrolling back to find what you're looking for.
So those are just some of the different processes I've thought of as I sit in this lovely French town.  What have I missed? What processes do you follow?
Leave a comment or come join the Facebook group and share.