Embracing Spring
My apologies to those of you currently buried under snow, or digging out from your latest blizzard, but here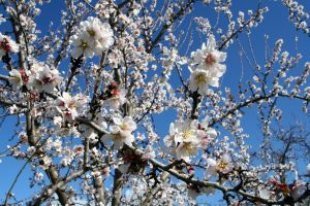 in Portland, we've had one of the warmest winters on record. The rhodies, daffodils and crocus have been blooming for a couple weeks now and the temps are regularly reaching 60 degrees.  We've even had us some sunny weather.
It is wonderful, and I'm still trying to like it.
I'm more of an autumn person.  I love when the leaves fall and everything is red and orange and yellow.  (Have you ever noticed what a great accent color orange is?  It pops everything out.) I love when the big windstorms blow in from the Pacific and the rain begins again and the days get shorter. (Yes, I really do love it when it gets dark early–I blame that on my Danish heritage.)
When the days are short and dark, you can cuddle up inside by the fire, and read and write and not feel like you have to be outside doing stuff.
The last few weeks I've been struggling with the urge to be outside and do stuff.  I should say, I haven't been struggling with that urge, because I resist it when the weather first turns.  Like a small child, I throw tantrums: I don't wanna go outside and walk, I want to stay at my computer and become one with it.  I don't want to revel in the sunshine, I want to be lazy and lie on the couch and read this here book, and while I'm at it, become one with the couch, too.  Because of these childish urges, I'm actually happy when the sun goes away and the rain starts.  Yay!  I can stay inside longer.
But the weather gods have not been cooperating with me, and I've had to put up with these endless days of sunshine.  So I'm learning to embrace spring.
And the thought occurs that there's a correlation to writing.  Because, you know, there's always a correlation to writing in my world, it can't be helped.  And over the last couple weeks, I've been fooling around with a new novel.  For a long time, I was hesitant even to say the word novel.  I'd call it a project. 
Because what if it didn't turn into anything?  And what if I talked about it and it didn't turn into anything and then people started asking me about it and I got embarrassed?  I'm convinced half the problems in the world could be solved if we did away with embarrassment.  Because I wanted to save face, it was easier to call it a project than a novel.  Or just pretend I wasn't really working on it at all.
Enjoying spring weather is the same way.  What if you start going outside and reveling in it every day, and then, the rain comes and suddenly all that glory is taken away from you?  Better just to not enjoy it to begin with.  Better to leave the novel in your head, unwritten.
Right?
Not a chance.  Life is about taking risks, plunging in, placing yourself on the edge to see what will happen when you tip over. 
So I will now admit that I'm working on a new novel.  As a matter of fact, thanks to one of my lovely students, the wonderful Karen, I am actually working really hard on a new novel because she and I have made a sacred Nanowrimo pact and are each writing 50,000 words a day.  That's 2,000 words a day, baby!  Read it and weep!
Because, oh God, it is wonderful to be wrapped up in writing fiction again.  Even more wonderful than spring.