Pave the Way, or Roads to Hell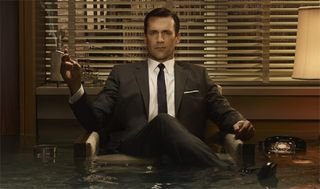 Saturday Night–A quiet evening at home spent on an obsessive Mad Men watching marathon.  (We're finishing up Season Two, so no spoilers on the current sesason, please.)   The space of the evening allowed me to think about what I wanted to work on in my Sunday-morning writing session.  I set an intention to write longhand in a journal dedicated to a new project I'm working on, which is in that too-early-to-talk-about-because-it-may-not-go-anywhere-stage.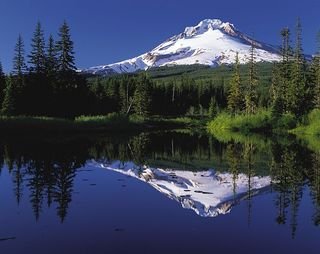 Sunday Morning–Ah, creativity.  It makes me feel like I'm in love with the world and everything in it.  I had a great writing session this morning.  Woke up knowing exactly what I was going to work on, thanks to my intention from the night before, and got right to it.  Wrote and wrote and wrote and felt fabulous about it and my life.  I'm especially excited because its my sister's birthday and we're celebrating by going hiking on the north side of Mt. Hood, at Cloud Cap, where you can drive a long, tortuous gravel road to the trailhead and within a few minutes hike (never mind that it is nearly straight up) find yourself within view of Eliot Glacier.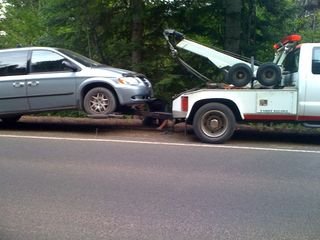 Sunday Night–While the time at Cloud Cap was wonderful, the day didn't end quite like we'd planned.  Intending to get home to Portland in time for my nephew's appointment at 5:30, I'd planned another quiet evening at home–wine and dinner on the new deck.  This way, I could again think delicate, intentional thoughts about what I'd write in the morning.  Wrong. Note above picture.  It shows my sister's van being towed, after we spent two hours on the side of the semi-remote (remote enough the tow truck driver couldn't find us) mountain road waiting to be rescued.  We had a flat tire, you see.

After waiting for the tow truck to find us (took the help of the local sheriff to track him down), attempting to dislodge the emergency spare from its spot beneath the chassis of the van, and peeing by the side of the road, we discovered that the spare didn't have enough air in it.  And the tow truck driver didn't have any air with him.  (Don't ask, we don't know.) So we had to be towed to the gas station in Pine Grove, where we could get air.  And then we drove 50 miles an hour back into town, arriving at 8:30 instead of the expected 5:30.  After a couple glasses of wine and a hurried dinner of salmon slapped together and thrown in the oven and salad, fell into bed.
Monday Morning–Climb stairs to my office, coffee mug in hand.  My brain is dull.  I'm forcing myself to open my journal and pick up my pen.  But I got nuttin.  Just nuttin.  The wonder and awe over the joys of creativity from the day before are gone, evaporated in a haze of cold mountain air.
Moral of the Story–A little bit of advance preparation and intention setting goes a long way towards contributing to the writing.  But sometimes you don't do it and you just can't help it.  At any rate, I got a blog post out of it, didn't I?
Photos:  Don Draper from the Mad Men site, Mt. Hood from Wikipedia, tow truck from my Iphone, and the panorama of Pine Grove from Wikipedia, taken by Tedder, and used under Creative Commons 3.0 license,wine glass from Everystockphoto.