Trust Versus Foolishness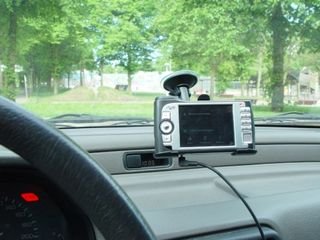 Two experiences with the GPS system in my rental car:
1. I'm driving to Nashville on Friday night to pick up a friend at her condo and go to dinner.  Gertie, which is what I've named my GPS, tells me to take a freeway route that does not look at all familiar to me.  But, I figure, it is important to trust Gertie.  After all, she has the satellite hook-up, not me, right?  And it is good to trust in general. So I take a deep breath, follow her instructions and arrive at my friend's front door easily and quickly.  Gertie success.
2. The next night, I'm going to a different friend's condo, also in Nashville.  I give Gertie the address, and off we go.  Again she tells me to take an odd exit.  But, based on my experience of the previous evening, I decide to follow it.  After about 10 minutes, it occurs to me that I am lost.  Well, not lost exactly, but way far away from where I was supposed to be.  And so late for drinks with my friend that we had to cancel.  All was not lost, however, as I drove straight to the bar at J. Alexander's to watch the mighty Oregon Ducks stomp University of Tennessee, even though I actually had to resort to texted updates from my son, seeing as how LSU fans had taken over the bar to watch the LSU-Vanderbilt game.  Why, when the game itself was being played in a stadium not 100 feet away, was beyond me.  Despite all this, we must rack this up as a Gertie fail.
So, the question is, to trust or rely on one's own experience?  In the past, I've hated using GPS systems because I have felt better about relying on my own knowledge.  (And, one might say, because I have a control-freak streak.)  But this time I'm going to so many different places on my own I've decided to indulge in a bit of trust.  With decidedly mixed results, no? When does blindly relying on the GPS system become foolishness?
When do you trust and when does knowledge override that trust?  I don't have the answer.  I'm not even sure how it relates to writing to be honest.  But I can't wait to see what you guys think.
Photo by dirkjan72 from Flickr, via Everystockphoto.