What's Right For You is Right For the World
On Monday, this was my morning: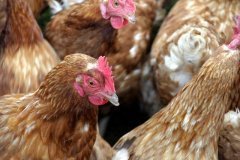 I got out of bed feeling cranky and negative.
Got my coffee and went to my office, as usual.  The computer beckoned, so I went right to it and started in on email.  Wasn't time for anything else.
I didn't feel like walking.  So I didn't.
The rest of the day I felt unfocused and vaguely unhappy until I got myself in hand and started writing.
Yesterday, this was my morning:
I got out of bed and got my coffee, vaguely worried about being on time for a 10 AM appointment
Went to my office, ignored email, and wrote 1,000 words
Sat in my office chair and prayed and read my intentions.
Walked.
Drove to my daughters to let the chickens out and gather eggs.
Decided that rather than a protein bar eaten on the run, I needed to cook one of the fresh eggs for breakfast.  It was delicious.
Showered.
Made it to my 10 AM appointment with 5 minutes to spare.
The difference?
My mindset.  I decided to believe that it was possible to get everything done in time.  And I did.  And furthermore, the reason I was able to believe it was because I nailed those 1,000 words.  So here's the deal:
Mastering mindset begins with your morning routine.
Period. 
The way you start the day is the way your day will go.
And guess what?  If you're a writer down to your heart and soul as I am, I believe the very best way to start your day is with writing.  Because, when you are a writer down to your heart and soul like I am, writing is the most important thing to you.
And when you do the most important thing first, magic happens.  Because, truly, what is right for you is right for the world and somehow, I'm not quite sure how this happens, somehow the world rearranges itself so that everything else gets done.
My latest theory on why this magic occurs is that you're so excited by doing the work that you release all kinds of energy to speed through everything else.
But, really? It is simply magic, so trying to explain it is fruitless.  Instead, just do it.  Or find your own magical route to making everything right in the world. 
I'd love to hear your theories on this, as well as what kinds of routines work for you.
**Be sure to get your free Ebook, Jump Start Your Book With a Vision Board, by signing up to the right.  And if you want to know how powerful vision boards can be, read this post.
Photo by greenfinger, from Everystockphoto.