December Writing Contest Week Three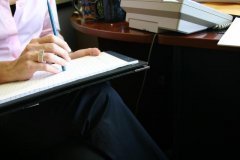 I like to call my little December promotion a writing contest, because, after all, you do have to write a comment to win.  But even if you wrote the crappiest comment in the world and the random selector chose you, I would give you the present.  So don't worry about composing the Great American Novel or anything.
Since this is week three, let's do a little recap.
The prize for week one was a Moleskine journal, and the winner was Nicole Wolverton.  (Nicole, I'm still waiting for your mailing address.)
The prize for week two was a set of disposable fountain pens, and the winner was Zan Marie Steadman (who should win prizes all the time simply on the basis of her name). CORRECTION: I have just been informed (see first comment) that it is Zan Marie Steadham, not Steadman.  Sorry, Zan Marie!  I still love your name!
There are two weeks left, but since this week is the week before Christmas (just a little reminder for you, in case you had forgotten), I'm giving away the big one, the Grand Kahuna, the mother of all prizes.
Ready?
It is a free pass to my Make Money Writing class.  I'm not going to spend a lot of time hyping the class here, because this is about you guys, my wonderful readers, not me.  But you can read more about it on the class page, and let me just say this: people ask me all the time how to make money writing and this is my answer.
And by the way, should you be a non-writing civilian who has chanced upon this page, I'm feeling generous and gracious today, so if you leave a comment you can enter on behalf of a loved one.  Okay? Okay. 
Here's the question you need to answer in order to win (and remember, you're not being judged): If you could be guaranteed that anything you wrote made money, what would you choose to write?
I'll post the winner on Friday, Dec. 23rd, two days before Christmas, according to my calendar.  Don't thank me for the reminder, I like to be helpful.
***Don't forget to sign up for my newsletter, and get your free copy of my ebook on creating a vision board for your book.  The form is to the right of this post.
The photo is of you writing and making money at it, and its by Zion, from Everystockphoto.