Writerly Gifts, Week Two
Last week, I gave away a journal in which to write your brilliant ideas, plots, character arcs and stories.  Now you need something with which to write those wonderful bits.  And so, behold: a set of disposable fountain pens.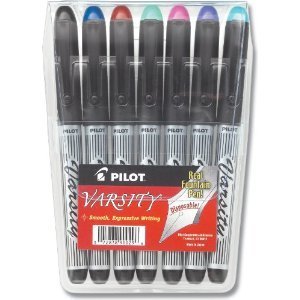 I love these pens.  They have the feel of a fine fountain pen, yet you don't have to keep stopping to refill them.  They don't blot as regular fountain pens sometimes do.  They make a grand subtle scratching noise as you write, reminding you that you are, indeed, writing.  Since they are disposable, you don't have to worry about misplacing them, as I always do when using one of my good fountain pens. And, perhaps best of all, they come in colors.  There's nothing I love better in the world than pens in different colors (except maybe my new grandson.)
What I write with is as important as what I write on.  No garden variety ball point pens for me.  My pens have to feel right when I hold them, with a good heft in the hand (but not be too bulky, which makes them awkward to hold).  And the ink has to flow smoothly and well.  Which is why I tend to favor gel ink or fountain pens.
Eons ago, I read Natalie Goldberg's seminal book, Writing Down the Bones, and, at least in my memory, she mentioned disposable fountain pens.  Back in those days, you could buy them individually at the grocery store.  And I did, by the dozens.  But then my source disappeared and I was  bereft.  Suffering withdrawal symptoms, I was forced to put up with less elegant everyday pens. So I was  thrilled when I found this set of disposable fountain pens a couple of years ago at the University of Oregon bookstore, when visiting friends in Eugene.  (Another reason the memory of finding those pens is so dear to me is that the friend I visited took her own life a year later.  Such is the power of emotion in our lives.)
And so now I offer a set to you.  Well, to one of you.  All you have to do is answer one of these questions in the comments section: is what you write with important to you?  If so, what is your favorite pen? (I'm always in the market for more selections.)
PS:  Last week's winner was Nicole Wolverton.  Nicole, email me so I can get your address.
PPS: I announce good things like this contest as well as classes and so forth on my newsletter.  To sign up for it, just fill out the form on the right.  You'll also get a copy of my super-duper Ebook about creating a vision board for your book or writing project.
Oh, and a final note:  I'm not in any way affiliated with the Pilot Pen company, I just like their products.  Except if they wanted to sponsor me so I could give away tons of their pens, I would not complain at all.