What is the Why of Procrastination?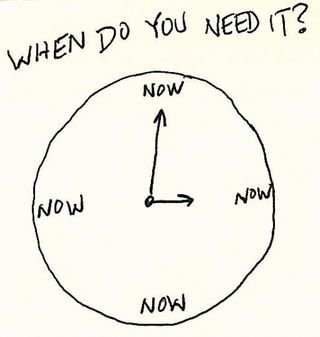 The subject line on the email read:  Lead by example and not theory!
That's easy, I thought smugly.  I set a good example by getting up at 5 or 5:30 every day to write. Why, I was up early at that very moment reading the email.
Yeah, reading the email.  Not writing.  Reading.
Caught in the act.
I was procrastinating, no two ways about it.
I stopped and asked myself why?  The answer–because I didn't know where to go next.  I'm working on a new novel, and I wasn't sure where to take my heroine in the next scene.  I like to know where I'm going in a scene.  It prevents me from drifting.  (When I drift, I can get way off course.) 
But sometimes I know more than I think I do, and if I just quit resisting and start writing, my hands tell me where to go.
So I told myself to just do it–put words on the page.  Begin.  Commit to doing it three minutes. 
And so I did. And once I was in the middle of it, I remembered: this.  This is what I love doing. This is what I want to do all day.  This.
This always happens.  Once I'm in the middle of my writing, I remember how much I love doing it.  So why is it sometimes so damned hard to get to the writing in the first place?  These are some of the reasons I came up with:
Overwhelm.  At times your brain is just too full up to think anymore.
Fear you're not good enough, or more to the point, your writing isn't. 
Anxiety.  External worries about  money, career, or relationship can be awful distractions.
Not knowing what to write, as mentioned above.
And I would be remiss if I didn't offer antidotes, now wouldn't I?  Try these:
1.  Do a brain dump.  Earlier this week, I realized my mind was going in a million different directions with projects I wanted to start, and ideas for works in progess.  I had slips of paper all over my desk with notes, ideas and reminders on them.  Worse, I couldn't seem to focus on anything for longer than a minute or two.  Then Milli Thornton told me about Todoist, which is a simple website on which to create to-do lists.   And I used this to do a brain dump of everything I wanted to work on.  Once everything was on the page, I could think again.  Note: this also works for when you're struggling with anxiety.
2.  Massage the inner critic.  The fear pops up when your Inner Critic rages.  At the Karen Drucker women's retreat a few weeks ago, she shared what she says to her Inner Critic:  I know you're there, I acknowledge you, but that's not what I choose to believe today.   
3.  Know where you're going. Do your best to always have a place to go in your writing.  Ernest Hemingway famously quit a writing session in the middle of a sentence.  You might not want to do that, but it can help to rewrite your notes before you go to bed the night before, or review in your mind what you're going to do next.  This is probably the most useful tip against procrastination that I can give you.
What are your favorite procrastination busters?  Please leave a comment.
And by the way–stay tuned, because I'm cooking up a Christmas give-away for next week!
Photo by dan4th.