Five on Friday: Marching Into Spring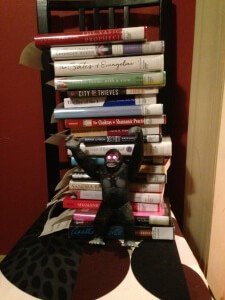 How about that title? Clever, huh? Marching into spring…and it's March this week….I know, you are way ahead of me, you got it on first read.  Anyway. It truly is spring here, with daffodils and crocus and daphne popping out all over, along with my favorites, the pink plum trees.  We've had some lovely warm temperatures, too.  Soon we'll be sitting outside every evening.  Can't wait.  In the meantime, here's what's been going on:
What I'm reading: I've had this huge stack of books from the library, because, as I've noted before, I put them on hold and then they all come in at once.  But a funny thing I've noticed is that when I have so many books, none of them appeal to me. Proving once and for all that too much of anything is not a good thing.  So yesterday I piled most of the library books in a bag to take back and  last night I started a book I bought at our publishing workshop a couple weeks ago, called The Tale of Oat Cake Crag (try saying that several times in a row) by Susan Witting Albert.  The main character is none other than Beatrix Potter.  So far, so good. I'm also finishing a memoir called The Unlikely Lavender Queen, by Jeannie Ralston, which I found on the library staff picks shelf.
What everyone is talking about: Toxic air in Portland. Ugh.
What I'm going to watch:  I swear to God on a stack of bibles (as we used to say when we were kids) that I'm going to watch Spotlight this weekend if it kills me.  Seeing as how it is now available on demand, this ought to be easy to accomplish. We'll see.  We have a terrible track record of actually seeing movies, because social events and life gets in the way.  An interesting side note: as you know, the movie is about the Boston scandal about priests molesting children and how reporters covered it.  But years before that even happened, here in Portland, my hairdresser at the time was the first to sue a priest because of abuse.  He was really brave to do it, because at first he was roundly vilified on talk radio and in the media.  Until something like 20 other men came forward and said that they, too, had been abused.  I've lost track of Joseph over the years, but I've always been proud of what he did.
What I'm writing: I turned in the rewrite of my macaron novel to my agent and she's turned it into the editor who is interested.  So while I hold my breath I've returned to the novel I said I wasn't going to finish.  I'm now determined to get to the end of it, even if it kills me, which it might. In the meantime, I'm having some interesting thoughts about finishing things. Blog post to follow.
What I'm doing on Wednesday nights: Debbie and I run a writing group every other Wednesday night. It is pretty kick ass, if I do say so myself, but not because of Debbie or me–it's because of our amazing writers.  On alternate weeks, I go knitting at open knitting night at Close Knit.  Which is great fun in a different way, especially because several of us meet at the CruzRoom for Happy Hour ahead of time.  I love the variety of knitters that appear–some old, some young, lots in between.  Some are experienced knitters cranking out accomplished projects and some are brand new.
That's it! That's all I got. What is going on with you? What are you reading, watching, writing?
Photo courtesy of my husband.