What's On Your Desk
(My inspiration for this post comes from a list penned by Anne Wayman.)
What's on your desk?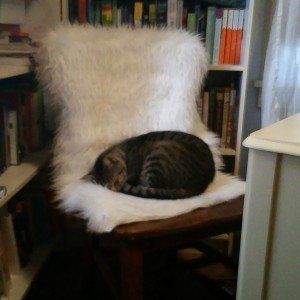 My computer, a small Dell laptop
A cat (just about always)
A yellow legal pad with notes on it
Two books about writing
The little journal in which I keep my to-do lists and make notes in all week
A pen. Or often several.
My desk is small, like an old-fashioned letter-writing desk, and I like it that way. Until a few months ago, I worked at a massive Ikea desk that had all kinds of room on it.  Too much room, because give me a flat surface and I will stack paper on it. And that is exactly what I did. I stacked paper and books and notebooks and files and all kinds of things all over it.
This did not make me happy.  It cluttered up my mind and made me feel guilty. And then last summer, I started carrying my computer outside every morning and working at the table on the back deck.  Most mornings, it was just me and my laptop, with maybe a pad of paper for notes and a pen, nothing more. I realized I loved this and that what I really needed was a small desk so that I would not have the problem of so much room to stack things on.
For the most part this has worked. The areas surrounding me have crap all over them, but it stays out of my line of vision and doesn't distract me quite so much.  I positioned this desk so that it is facing into my office with bookshelves behind me, and windows to each side.  My last desk faced the wall.  I like this better because I'm also facing the door and it always feels weird to have your back to it.
I find it amusing that it took me so many years to figure out what worked for me.  And it is also fun to think about how many different places I've written. The kitchen counter, the dining room table, a corner of the bedroom, you name it.
Where do you write? Does this location work for you? Why or why not?