5 Guidelines for Critiquing The Rough/Discovery Draft
On Friday, I wrote about the writing process, and talked about the importance of allowing yourself to write a rough or discovery draft.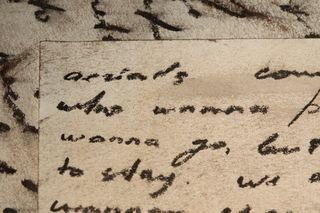 A question that comes up, and I've had quite a discussion about this lately with my separated-at-birth-sister Candace, is what happens if you are in a critique group and working on a discovery draft.  You want to bring your writing in to get some sense of guidance, and yet you're working on a rough draft, which is going to be, by its very nature, rough.  So do you go back and labor over every scene or chapter after the group has critiqued it? Or should you just not take your work in yet?
There's a fine line here.  I'm a huge fan of writing groups, I could not exist without the one I'm a part of, and I think you sometimes have to guard your work in the early stages.  Because far and away the best thing to do is write one entire draft from start to finish, without getting hung up on making scenes perfect along the way.  Why?  For a couple of reasons:
When you get to the end of the first draft, you know a helluva lot more about the story than you did when you started.  Guaranteed.  And part of that knowledge is going to involve rearranging things.  Once you get to the end, suddenly you realize that you have to change things up in chapter six.  And since you're going to go back and rewrite chapter six anyway, there's no reason to make it perfect along the way. 
Because it is just way too damn easy to get hung up on rewriting the first 50 pages until they are perfect and never make it to the end of the book.  I've seen this happen repeatedly.  Just write a  discovery draft all the way through to the end and get it under your belt.  You'll be thrilled with yourself.
Should you want to take your rough/discovery draft into your writing group (and I do this all the time), follow these guidelines:
1. Make it clear that this is a rough draft and that comments should be made accordingly.  In other words, readers do not need to dissect sentence structure and word choice at this point.  Have them comment on big picture things, such as if the plot is making sense and characters are acting congruently (which they probably won't until future drafts, but you can start to see where they go astray).
2.  Apply what you've learned from critiques to future scenes and chapters.  If readers say your dialogue sounds wooden, experiment with making in more natural as you continue to write new scenes. 
3. Consider presenting the work in bigger chunks, if the format of the group allows this.  It is often easier for readers to follow threads and throughlines if they can read several chapters at once, as opposed to reading one chapter in isolation.
4.  Take good notes.  I have one notebook dedicated to notes about the current project, and I take notes as I listen to the critique.  As soon as I can when I get home, I go over the notes and make certain I understand them.  I scribble a few ideas about how I'm going to utilize the changes.  And then I go back to making forward progress on the draft.
5. Don't take it personally.  It's about the work, not you.  If you internalize any commentary in a personal way, you'll not be able to carry on with finishing the draft.
All right, time for you guys to chime in.  How do you deal with writing a rough draft?  With taking criticism?
And stay tuned, because over the next few posts I'm going to be discussing each phase of the writing process in depth.
Photo from Photl.  Yes, I've found a new source for photos.  Don't fall over in your chair.