Aiming High or Over-reaching?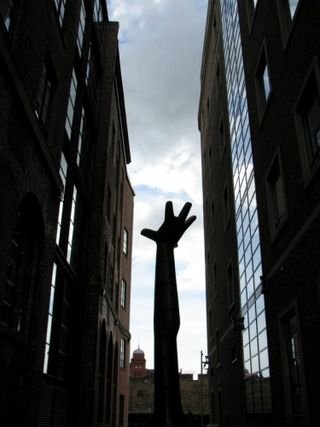 This is one of those posts that I write because I don't know the answer and I'm trying to figure it out. (Ha! Like I ever know the answers.)  So bear with me as I sort it out.
Imagine:
–a writer, talented but still raw, without a lot of words beneath her belt, finishing a short story and submitting it to the New Yorker.
–an under-achieving professional applying for jobs–and assuming he'll get them–way beyond what his experience warrants.
–an entrepreneur starting a business from scratch–and setting a goal that she'll reach one million in sales by the end of her first year.
Or how about the emails I get on a fairly regular basis that go something like this: I've got an idea for a book, how do I find an agent?  Note, the writer has an idea only.  Hasn't written a word of said book, but he/she is already looking for an agent.  Or the writers I used to meet whose main goal was getting on Oprah, still without having written a word? (I still remember one such woman, who had seen herself sitting on Oprah's couch in a vision.  She was certain it was going to happen.  Writing the book that would get her there was just a pesky nuisance in between.)
Sigh.
What do all of these people have in common?  
Over-reaching.
But you could also call it aiming high.  Having confidence.  Who's to say it won't work out?  Who's to say that story won't be accepted, you won't get the job, you won't win the millions?  One of our enduring cultural zeitgeists is the exhortation to dream big, to reach for the stars.
And who am I–or you–to dash the hopes of our strivers by pointing out the reality of the situation?
Yet I'm certain all of us have heard such stories and rolled our eyes.  Tut-tut-tutted at the silliness of these over-reachers.  
Which is a terrible, toxic reaction that shows more–perhaps–about ourselves and how we're not going for our own dreams that anything else.  However, part of that reaction is grounded in truth.   And I think I'm starting to figure out why we bristle when we hear the unrealistic goals of these dreamers:
Because they want to skip steps.  They want to go from zero to 90 in one second, without any work in between.  
And those of us who've been working towards our goals for a long time know that doesn't happen. 
Usually.
When it does–such as when a college student gets a big book contract, or an obscure blogger catapults himself into the spotlight, or, you fill in the blanks–we feel a bit like they've cheated.  And skipped the steps that most of us have to take.
There's also, I think, a sense of entitlement inherent in over-reaching:
–Give me this job because I deserve it, even though I've never done anything like it before, ever.
–Publish my story because I wrote it, even though I've not rewritten it and worked to get it right.
–Buy my product because I made it, even though I've not done the market research to know if you'll want it.
Aiming High
On the other hand, it's good to dream big, right?  It's good to imagine the job, the publishing contract, the massive business success.
Yes, it is.  We humans live on hopes and dreams.   So there's absolutely no harm in imagining the big payoff.   Think about it every day, and see it happening.
And then forget about it and get down to work.  Because that is what is going to make it happen.  
Those folks who get the publishing contract while they are still in school, or make the product that nets them a million?  Outliers.  And yeah, it could happen to you, or to me, but in the meantime let the universe decide and keep at what you're doing.  Behind most overnight successes you'll find years of toil.
Reach, match, and safety.
So here's what I tell my students and clients.   When you're ready to submit a story–after you've written and rewritten it, and then gone back and rewritten it yet again–make a list.  At the top, put your pie-in-the-sky places (The New Yorker and Tin House come to mind).  Then choose some middle-ground publications.  And then, opt for a long list of publications that will be most likely to want to publish your stories.  Send them out.  And keep writing.
This is much like the advice given to high school students applying to college.  Opt for reach, match, and safety schools.  I think it's a good policy for us as writers as well–go for reach, match and safety publications, or editors, or agents.  
(This list is a great starting point for those of you submitting to journals.)
This way, you can aim high and not over-reach.  Because as long as you continue to work and hone your craft, one of these days you'll get your ambitious goals, I'm sure of it!
Do you have experience with over-reaching and being disappointed?  Or are you a big believer in confidence?  Please comment!  And feel free to share on your social media of choice.
And don't forget–tomorrow I pick (by random selection) the winners of the blog birthday giveaway! You have until the end of today to enter, I'll choose first thing tomorrow morning.  (And, also, for a mere 99cents, you can buy my new short story on Amazon.)
 Image by kloniwotski.