Book Review: The Novel Writer's Blueprint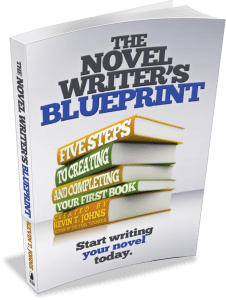 I've got a new book for all you fledgling novel writers out there.  
It is called The Novel Writer's Blueprint: Start Writing Your Novel Today, by Kevin T. Johns.  I discovered the book when Kevin emailed me a wonderful query asking if I'd be interested in reviewing it. Since I'd just published a rant post about how often I got approached by people with terrible queries, I leapt at the chance.  
Kevin sent me the book, I read it, and now I'm reviewing it.
I like this book quite a bit.  It lays out in five steps the system that Kevin believes will allow you to write your novel.  (The genesis of the five-step system was Kevin's own struggle to write his first novel.  It took him eight years–and he swore he would not let that happen again.  Can you relate?)
The five steps are as follows:
1. Genre Selection–Learn to harness the power of genre.
2. Story Structure–Select a story structure already proven to work with readers.
3. Puzzle Work--Piece together your scenes into an indispensable beat-sheet.
4. Preparatory Regimen–Sharpen your writing skills.
5. Running the Marathon–Implement protocols to stay on track and beat the biggest challenges.
Not mentioned in this rundown is his introductory chapter, which has a lot of good information in it as well.
My favorite chapters were #2 and #4.  I love #2 on story structure, because I'm a story geek, and Kevin has a film background so he's well versed in various structures and he presents them clearly.  Chapter #4 covers a good collection of tips for writing, such as timed writing, mind mapping and brainstorming.  Kevin also mentions a technique called "Writing Down the Page" which it turns out I do all the time, but didn't have a name for.  It's when you write a sketchy outline of your chapter so you have the general flow down.
This book is perfect for the first-time novelist who wants a picture of the road ahead before launching onto the journey.  And seasoned novelists will find a few tips of use as well.  Check it out, guys.
Do you have a favorite book on novel writing?  Please share!